Compost bins provide an effective, eco-friendly way to get rid of the trash while transforming it into rich fertile soil in your homestead. Getting the best composting bins helps get rid of food and yard trash menaces in your homestead. Composter capacity, size type, and design play an important role depending on your needs.
Composting bins are a must-have in your yard. Currently, there is a wide variety of compost bins and tumblers to choose from, coupled with different types, capacities, design styles, and quality. The best choice is able to handle the smell, and avoid being stalled and slimy problems.
9 Best Composting Bins
The compost gives your lawn and plants in your kitchen garden a nutrient boost while reducing the use of chemical fertilizers that may end up affecting your soil pH.
Composting ain`t a problem but getting the best composting bin that will help turn scarps to garden gold. Look no further, what`s the best compost bin to buy?
Below are some of the best available easy to use composters:
1. FCMP Outdoor IM4000 Dual Chamber Tumbling Composter 
Features
8 sided tumbler steady design
Made of highly sturdy sun-resistant material.
Has separate 2 doors that allow easy trashing and removing compost.
Made with a standing painted frame for easy maneuverability.
It has excellent aeration holes that allow optimal aerobic micro-organism composting.
FCMP IM4000 Dual tumbling composter is made as an 8-sided dual-chamber tumbling composter. It's an efficient compost bin that allows easy mixing and gives results within 2-3weeks. The composter is made with a large opening that allows easy use, adding trash and removing finished compost manure.
It's designed with aeration holes to allow mixing with a lot of oxygen for optimal performance. The inner part has fins that help break up large clumps inside the composter chamber. You need not turn the trash with your hand, just turn the tumbler about 5-6 times when the trash is inside the chamber for a quick break down-as little as 2 weeks.
The composter has two good-sized chambers and rotates easily on its sturdy metallic solid stand.  It's a well-built compost bin made of high-quality material to last long. One not-so-impressive feature, it comes disassembled. Assembling requires some amount of time to screw all parts in place for its longevity.
2. FCMP Outdoor IM4000 Tumbling Composter 
Features
Durably constructed composter.
Has twin composting chambers
Has aeration holes for optimal aerobic micro-organism functioning
Sturdy sun-resistant polypropylene bin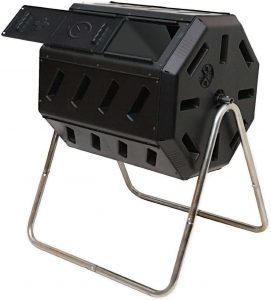 IM 4000 tumbling composter is very sturdy, with great maneuverability. It is easy to assemble for DIYs with great instruction guidelines for use. The composter is made from a very durable material for longevity. It is a big composter that can hold quite a fair amount of compost (5 cubic ft or 37 gallons) with dual bins design.
The bin is durably constructed with recyclable polypropylene materials. The materials are safe, BPA-free and UV inhibited. The tumbling composter comes with a sliding door for the easy put of trash in. Makes sure you turn the tumbler 5-6 times within 2-3 weeks for fast composting.
Just like a similar version, it provides a neat and compact way to handle 37 gallons of trash in your yard. The bin comes with adjustable air vents and deep fins that help break large clumps as well as mix it with oxygen for faster results than other standard models.
It features a twin composting chamber for continuous composting. Once one compartment is full you can add trash on the other side to allow an uninterrupted flow of rich health compact. This continuous swapping allows continuously addressing your trash without any interruption.
One-not-impressive feature for DIYs, it requires time to assemble and put nuts and bolts in the appropriate section for easy use. Emptying might be messy just like its counterpart IM4000 Dual chamber tumbling composter.
3. Worm Factory 360 Worm Composter (WF360B)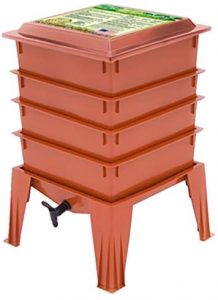 It provides odorless composting.
Expendable trays- from 4 to 8 trays.
Thermo-siphon & vermicomposter.
Instructions DVD guide for easy maneuverability
Well, designed & styled lid that doubles as a stand for trays during harvesting.
The worm factory composter system makes the composting job a very easy and quick process. It's built with a thermo-siphon airflow design that plays a major role in composting. The system is simple to set up and operate in your yard.
The composter is a continuous model that comes with an instruction DVD guide for year-round management.
The worms help refine the compost to a fine compost full of nutrients. The model allows the moisture filter through the system and can allow the harvest of organic liquid fertilizer from the spigot.
Adding trash to the composter is easy, just open the lid and toss the trash. Don't worry about feeding the worms, they can survive up to 2 weeks without any additional food. If you start with a pound of worms they will keep increasing as well as they just eat half a pound of food per day.
Worm360 composter allows year-round odorless compost when managed properly. Worry not for cold months you can use it indoors during cold seasons and outdoor during warm seasons. 
The composting cycle takes about 3 months, however, the consecutive trays take as little as a month depending on your trash. Once the trash is emptied on the below tray you get an empty tray to stuck on top. It has a worm ladder that assists worms back t the top trays.
If you are not a gardener or yard owner, worm 360 will save you the need for the landfill as well as take a big step toward sustainability and a greener world. The worm factory 360 provides a sustainable method of gardening that not only provide essential elements to the soil but also help it hold water and be disease resistant.
4. Algreen Products Soil Saver Classic Compost Bin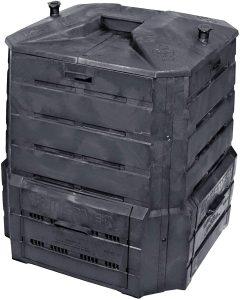 Has a self-locking lid that helps keep off rodents
Fast efficient composter
Sturdy and durable
Extra capacity: 94 gallons (12.65 cubic ft)
Durable composter that comes with 20 years warranty
All green soil saver compost bin is available in 2, 3 & 4 packs. The bin is made with robust thickness to help produce and insulate heat that accelerates the micro-organism breakdown of trash. The bin makes nutrient-rich soil organic dark compost humus.
It comes with a self-watering lid lock that helps keep animals out. The lid allows air to move through and enables the composter to accelerate the composting process.
The composter is made of 100% high-quality industrial recycled materials. It comes in ultra-thick gauge material (about 0.200″ resin) thickness that makes it one of the most strong and durable compared to its competitor Redmon compost bin. It has an easy-to-use locking lid making it convenient to use as well as keeping animals out.
The dual hatch doors allow convenient access to the finished product whenever the compost is ready for use. It has a large capacity-12 of cubic feet, and a plant space to handle a lot of trash.
5. Envirocycle Composting Tumbler Bin and Compost Tea Maker
Features
Makes compost and compost tea, safe organic fertilizers for your garden.
Highly durable design
Ready to use the model
Rustproof and food safe BPA
Large compact bin that is able to handle 35 gallons.
This is one of the finest, solid tank-like composters. The model comes already assembled, a plus for the DIY,s. Its rust-free, BPA, Ultra Violet rays resistant with antioxidant material for safety. The composter produces both solid and liquid organic fertilizers.
The composter is compactly designed for both city and suburban dwellers with compact space requirements. The innovative tank design allows easy collection of compost tea at the base. The compost's elegant design adds beauty to your yard while keeping trash smells at bay
The composer ranked the best innovatively designed bin during our review. It also allows continuous composting. To get the compost out you will need to easily roll the drum off the base to where you would like to use it in your garden.
6. Lifetime 60058 Compost Tumbler
Double-walled durable tumbler
Large capacity: 80 gallons
Galvanized steel base to allow balance rotation.
Heavy-duty UV-protected panels (HDPE).
Lightweight bin: 42.1 pounds.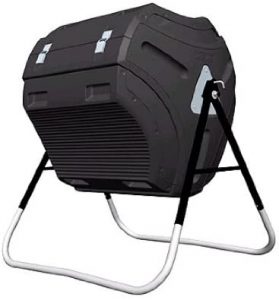 Lifetime 60058 is a single with 80 gallons (10.72 cubic-ft) capacity tumbler made of high-density polyethylene plastic. It's built with double-walled panels to help absorb and retain the heat that helps accelerate the decomposition of trash material. The tumbler has a steel frame for east turning in its axis as well as allowing the oxygen to run through the internal bars.
The lifetime compost tumble is an excellent tumble designed perfectly for your yard. It has an extra-large removable lid.  The bin comes with a DVD guide for easy use and optimal result. If manufacturer instructions are followed, you can get compost manure within 21-30 days or longer depending on other factors.
The lifetime 60058 composter bin has inbuilt drainage for compost tea
7. Compost Bin by GEOBIN
Large capacity of 216 gallons
Expendable according to needs up to 4 ft
Lightweight and easily movable
Easy to assemble and reassemble
Great vents for aeration that allow optimal micro-organism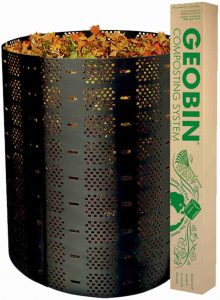 Geobin compost bin is made from recycled PVC with excellent ventilation for the composting process. It's durable, sturdy, and easy to use in your composter for your yard. The bin is expendable and a few tricks here and there like joining two can make it handle a lot of trash in your yard.
The bin is easy to assemble ad reassemble, as well as lightweight to move around. It comes with connectors that make it easy to maneuver. Once the pile has formed you can lift it up a few feet up to allow adding more trash.  
8. Good Ideas EZCJR-BLK 7-Cubic-Foot Compost Wizard Jr
Fully assembled and durable ready-to-use composter.
Large and Compact.
Sustainable cost-friendly composter.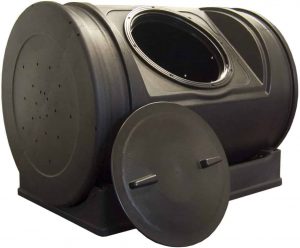 EZCJR-BLK 7 cubic feet is ready to use a fully assembled tumbler made to hold 7 cubic feet of trash. The bin is fully compact that can be used in both urban areas and rural setups. The composter is designed with vent holes for aeration.
The bins are able to keep the animal at bay. The bin is pet and kids-friendly as well as gives out nutrient-rich child and animal-safe fertilizer for your garden. The compost Wizard Jr comes in two parts, easy to assemble as well as use.
The bin is made up of post-industrial polyethylene material that does make it sustainable and cost-friendly. It has a 12-inch lid that makes it easy to fill trash as well as remove it once filled. The lid allows easy tumbling and is efficient in the composting process which takes about 30-45 days.
9. EJWOX Large Composting Tumbler Bin
Convenient loading system
Sturdy steel coated frame
Tumbler design with an aeration system
Dual compost chamber
Large capacity; 43 Gallons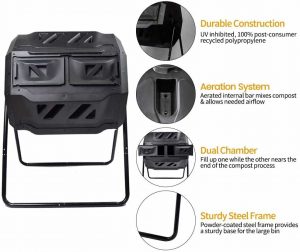 EJWOX large composter is a tumbler with a dual compost chamber for continuous composting. Once one of the camber is filled you can fill the nest one as your way for the compost cycle to be ready. It has aerated internal bars that allow proper mixing of trash with air for an efficient compost process.
The Outer casing is made black to absorb heat as well as retain it for accelerating the composting process. The sturdy steel frame makes it a convenient composter, large enough for the yard and kitchen trash.
The tumbling design of this composter makes it easy to keep track of each batch, rotate it as well as empty it into a cart once the batch is ready for garden use. The composter is extremely durable, easy to use, and maneuverable with long-lasting material.
The Best features of a Composting Bin
Bin type
Consider your needs first before embarking on the other considerations. There are many types of compost bins, for temporal use or long time use, open vs closed bins, etc.
The three types of composters are made to handle compost with greater efficiency and ease of use. They include:
Continuous composters
These are enclosed compost bins that can handle both kitchen a yard waste continuously. You can keep adding up materials and compost will keep generating slowly. In most of them, you add the trash on top and remove the finished compost below. One advantage is it`s able to keep rodents and other critters at bay.
Batch composters
These are tumbling Composter that makes efficient, compost accelerating machines. A batch composter provides the fastest means to make compost manure, The batch is well mixed with ingredients and cooks until it's done possibly between 4-8wks. During this time you may be stockpiling the next batch as turn the one on the composter on a daily basis.
Indoor composters and worm bins
These are the smallest bin types that are ideal for small-scale use. They are majorly designed for kitchen waste compost bins.
Design & Style
Once you evaluate the size and capacity of the bin, consider the best style for your need. There are three main styles below, each having advantages and disadvantages.
Tumblers   
Countertop compost bin
Vermicompost
Storage Capacity
When buying consider the size and the capacity of the Composter which can handle your trash needs. If you have a large amount of waste; food and lawn materials, then consider getting a large-size Composter. For small families and little amounts of waste, you can get smaller composters.
The bigger the storage capacity the bigger the size of the compost bin.
Durability
The composter is available in different quality for different prices. However, getting a cheaply made compost bin will end up costing you more in the long run. Get yourself a good durable Composter that will help protect your investment, It will help return your cost in the long run and reduce other costs that could have been incurred when buying chemical fertilizers.
Performance
Efficiency and how fast the compost bins are able to turn it into ready manure should be considered. It's good to consider the manufacturer's specifications for optimal speed and efficiency for your trash.
Some composter is able to avoid smell in your yard. Take your trash needs into consideration when choosing either closed or open bins.
Summary
Every yard owner knows the secret of using nutrient-rich manure in his kitchen garden. Garden supplies vegetables and fruits to any gardener. Compost manure provides essential nutrients to these garden essentials while maintaining soil pH and preventing drought and diseases.
Traditionally many homeowners used an open pit for compost. Technological advancement has provided beautiful compost bins and tumblers that are more efficient with less or no smell or odor in your yard. Selecting the best composter for your yard not only solves your trash problems but get value for money. The composter and tumblers can last for decades with minimal maintenance.
Sources and Reference