Should You Put Rocks Around Your Pool? + Landscaping
When choosing the most suitable material to improve the style of your pool area is a challenging task. Selecting a suitable material will bring the aesthetic and great ambiance for relaxation. Pavers, concrete, and gravel are the main common materials used, but should I put rocks around the pool?
Putting rocks around your pool adds elegance and a cool relaxing ambiance. You can use rocks to landscape around the pool together with pavers, trees, and shrubs. Rocks make a good waterfall that enhances the tranquility and the value of your pool or house.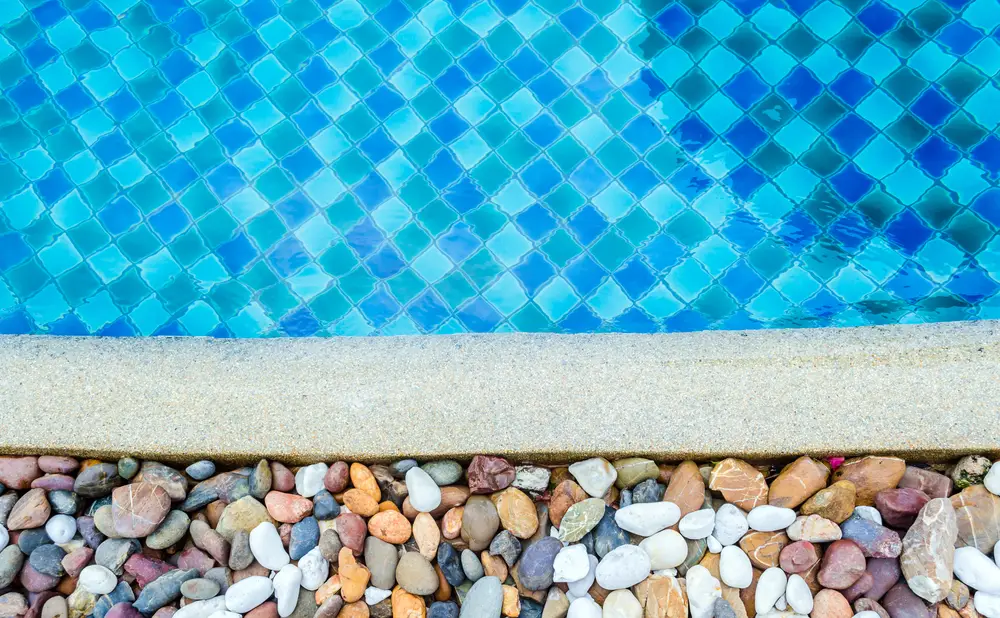 Is it okay to put rocks around my pool?
You can use rocks around your pool area to add more elegance and create that beautiful oasis you desire. Rocks make an excellent choice for the pool area, especially due to the various types of rocks to use.
River jacks stones are the best option because they are small-sized and have smooth surfaces, making them more comfortable to walk on barefoot. They are also attractive and exist in various shades. When added, they make the pool area more stunning. The other two rocks used for the pool area are brown landscape rocks and pure red landscape rocks.
The only types of rocks you should avoid using in the pool area are grey and white stones. This is because they have limestone, which corrodes the metal liners of the pool and uncomfortable walking barefoot. This may make your pool heater keep shutting off due to blockage
How to landscape around a pool with rocks?
Planting evergreens around the pool and installing concrete or artificial lights inside the pool are great ways to improve the landscape. But you can also use rocks in various designs, textures, and sizes to add more aesthetic to the pool area.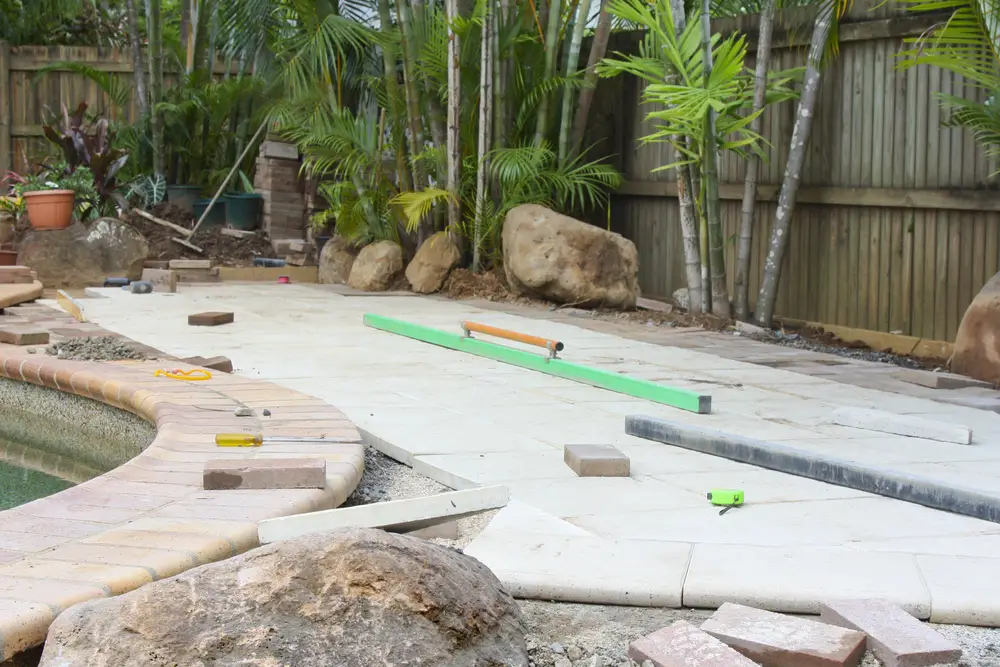 Here are ways to use stones for landscaping the pool area:
1. Create a custom waterfall rock near the pool
Custom waterfall throwing water downwards and into the pool will make the area more lively. During clear days, the waterfall creates a blue impression making the pool area more natural-looking with a relaxing experience.
2. Add gravel around concrete
You can add gravel around the concrete edges and extend them to the wall around the pool to make the area more beautiful.
3. Plant evergreens between rocks
Another way to transform your pool area from a primary pool to a heavenly oasis is by adding rocks around it, then planting evergreens between them.  Rocks like river jacks make the place more appealing, while the evergreens between the stones add a more natural look.
4. Add boulders around the pool
Place boulders around the pool area to bask on and create a dramatic feel. Boulders added around a stone waterfall pouring water into the pool give the impression of a natural waterfall.
Be sure to use the recommended stones for boulders, as some rocks can easily break or wither and release harmful chemicals into the pool. Add gravel around the boulders to create more drama.
What kind of rocks do you put around a pool?
Though you can use rocks around your pool, not all stones are suitable and safe for use. Examples of dangerous stones for use in the pool area are white stones and grey stones. These rocks contain limestone, which can corrode the metal liners of the pool and are unsafe to walk on barefooted.
But, there are three best types of rocks to use for the pool area. Let's explore them.
1. River jacks
River jacks are the best type of rock to use for your pool area. They are small in size, rounded, and have a smooth surface, making them comfortable to walk on barefooted. These rocks are available in beautiful colors such as grey, burgundy, and tan, making your pool area more attractive. They are readily available in stores and are affordable.
2. Brown landscape stone
These stones are creamy or tan in color. They are small-sized, rounded, and have a smooth surface, like river jacks. They are comfortable walking on barefooted, making them the second-best choice for use around the pool.
3. Pure red landscape stones
They are the third-best stone choice for the pool area. Pure red landscape stones are red, which compliments the aesthetic of the pool area. They are small and sharp, therefore you can't walk on them barefoot.
They are more convenient when placed distant from the pool where one is not likely to walk.
What to landscape with around a pool?
The pool area is a perfect place to spend most of your summertime with friends and family,  as you enjoy the warmth of the sun. But, a pool area with dead grasses and sharp stones spoils your fun moment. You can make the pool area stunning and more fun to spend time at.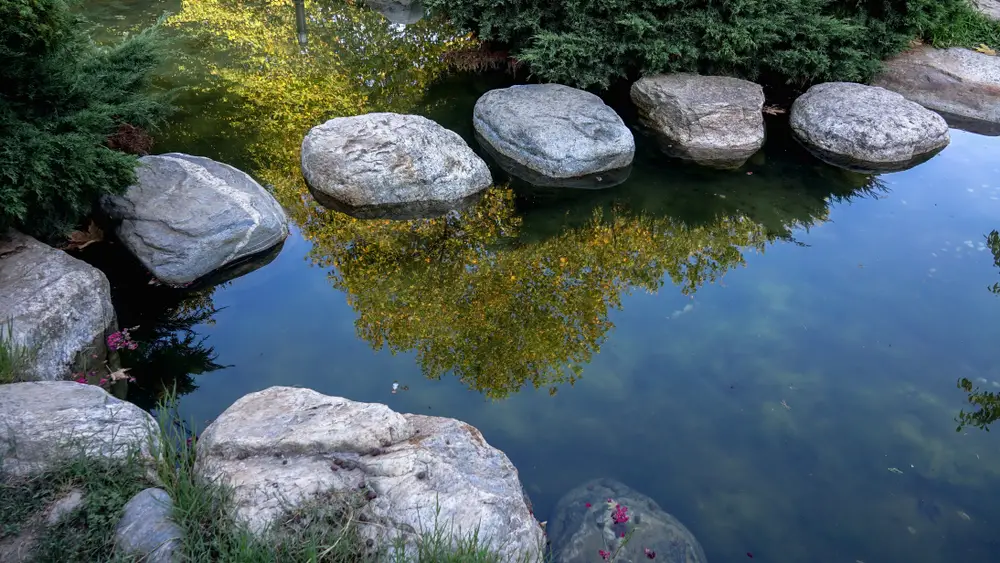 Here are some best structures for landscaping around a pool:
1. Trees, evergreens, shrubs, and flowers
Evergreens, shrubs, and flowers will take your pool a notch higher by elevating its appearance to an audacious one rather than the previously dull one. If you love plants, adding them will make an excellent deal for the area.
Evergreens like boxwood shrubs will give your pool area a natural look, and you get to enjoy mother nature while swimming.
Tropical plants, e.g., palm trees, canna, and hibiscus, are more colorful and vibrant, this will make the area more visually appealing.
The trees can be used as natural fences for privacy on your pool, whether you want to block onlooking neighbors or hide from your stubborn kids or family members.
Plant evergreens in different-sized pots and arrange them to form a pitch that will make the area look more attractive. Return tropical evergreen plants indoors at the onset of Winter.
While choosing plants and trees for the pool area, select ones that don't shed during swimming, such as bougainvillea and azalea. This is because they shed their leaves on the pool water and may clog the pool system.
In addition, get trees with low maintenance and whose roots don't spread further, interfering with the concrete or plumbing of the pool. As a rule of thumb, grow trees 10 meters away from the pool.
2.  Pavers
Install pavers around the pool area to improve its general outlook. Pavers make an excellent choice for the pool area because they exist in various colors and designs, which complements and adds to its aesthetic.
Also, pavers are easy maintenance and are rarely stained. If they become stained in any way, the stains are unnoticeable. Pavers are skid-free, therefore, safe to walk on, even on bare feet. If you want something durable with little or no repairs for your pool area, add pavers to the pool area.
Read More: Porcelain Pavers Pros and Cons
3.  Patio, pergola, or lounge area
Adding a patio to the pool area will make the place more appealing and provide a cozy place to relax after swimming without going indoors comfortably. A patio area by the poolside gives a great space to host a pool party with friends and family. Even during a family gathering, you can enjoy swimming alongside dining at the patio area.
Besides adding a patio,  you can bring outdoor basking furniture and shades to the lounge area to make it a more stunning and comfortable place to spend time.
Pergola by the poolside will also elevate its appearance. Choose furniture and designs to match your home's aesthetic. This improves the general outlook of your home and its value.
Source and Reference