When it comes to the best backpack leaf blower machines, you want them lightweight yet with enough power to clean your yard of dry and wet leaves with ease. You'll also prefer those with a low carbon footprint, less noise, variable speed control, extra handgrip, and sufficient power to clean up your lawn quickly.
Compared to a handheld leaf blower, a good backpack blower offers much more power for picking up leaves while transferring the strain of weight from your arms to your back and shoulders.
7 Best Backpack Leaf Blowers
[wptb id=25387]
So what's the best backpack leaf blower to buy? I've cut through a lot of them – being a homeowner and lawn care professional – and I've reviewed the top 7 backpack leaf blowers on the market today.
1. Husqvarna 965877502 350BT 2-Cycle Gas Backpack Blower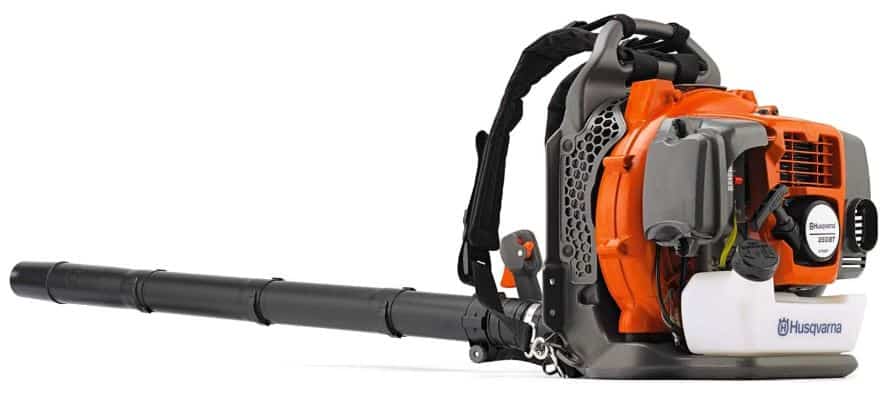 Very low noise level (104 dB)
Lightweight – weighs just 22.5 lbs
High power output at 2.1 HP for even the most dense leaves.
Has cruise control so you'll not need to vary the speed all the time.
Air purge feature makes it very easy to start.
The adjustable soft-grip handle makes it very comfortable to handle.
See Price + Reviews
This is, hands down, the best commercial backpack blower on this list. The Husqvarna 350BT cordless leaf blower packs a punch in terms of features and performance.
I found it to be one of the most powerful leaf blowers for large yards not just because of its power but also soft handling and comfortable straps.
Power for performance
The 50.2 cc engine produces 2.1 HP which is immense even for cleaning up a heap of wet leaves from any yard.
As per the specs, it can produce a wind at a speed of 180 miles per hour from the fan that peaks at 7,500 revolutions per minute. But I had to prove it works, so I put it to the test in my yard.
It is a great backpack leaf blower – having blown away even the most stubborn of debris that was heaping on the sides of my composting bins. Wet leaves were a light task, being blown away really fast.
Cruise control is cool
Since this backpack leaf blower is designed for both home and commercial use, it has a cruise control feature which I find really cool.
If you're not a fan of constantly regulating the speed of your blower, you'll find this feature very useful especially when cleaning up the compound for hours on end.
Weight?
While 22.5 lbs is fairly lightweight and I carried it on my back for quite some time while testing, I found it to get a little heavy for comfort after about 30 minutes of use.
This might not be the best gas backpack leaf blower for yard owners above 63 years. It will start weighing on you especially if you have a big yard.
2. Greenworks 80V 145MPH – 580CFM Cordless Backpack Leaf Blower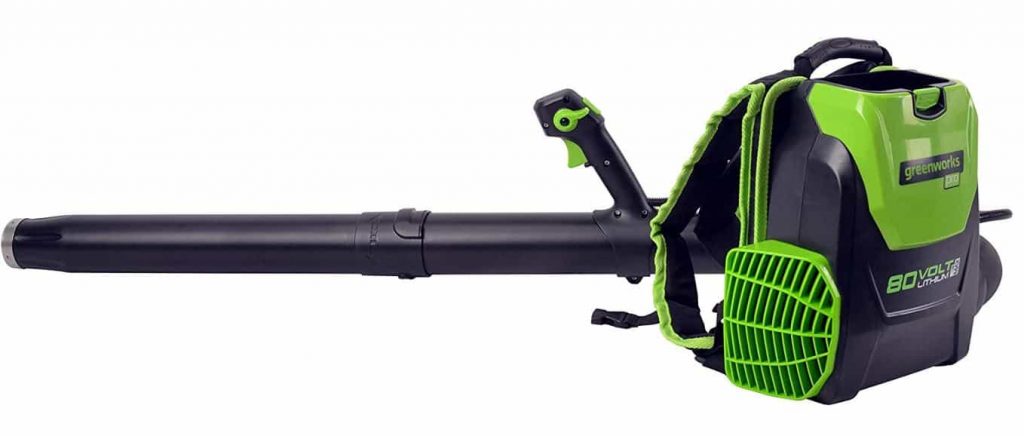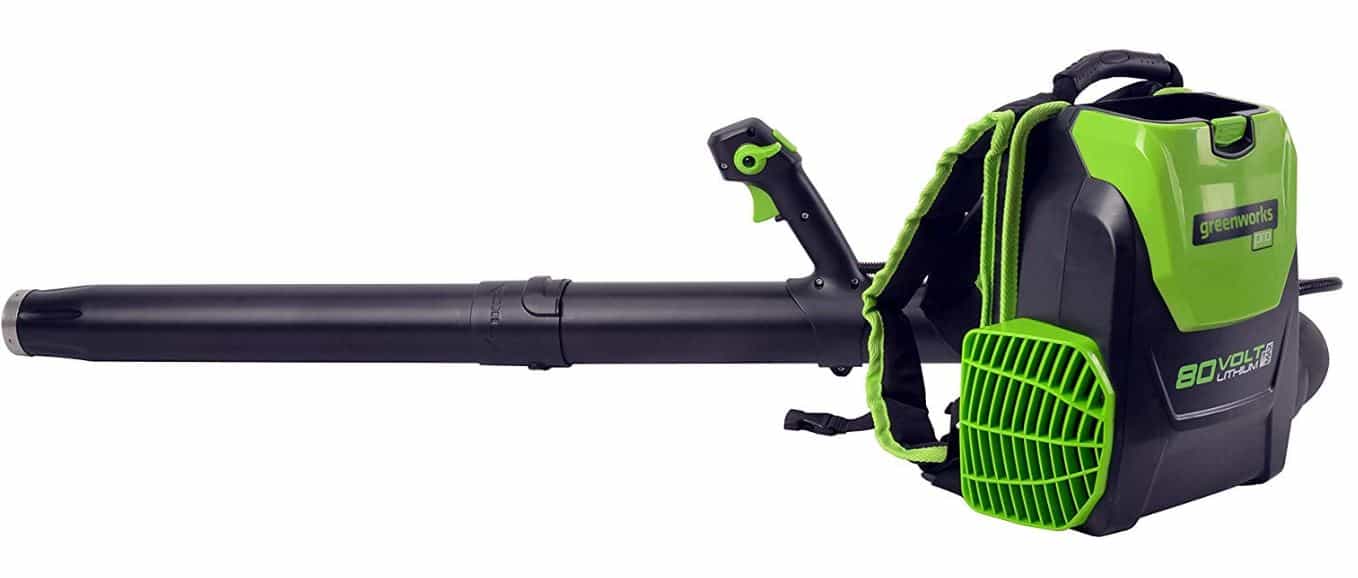 145 MPH and 580 CFM deliver great performance even on wet leaves
Has cruise control feature for great control.
Very easy to maneuver
Lowest noise level: 60 dB(A) rating
Variable speed with turbo option for tough debris.
Lightest backpack blower – approx. 12 lbs with battery.
For cordless backpack leaf blowers, this Greenworks 580CFM model is highly rated and efficient in my opinion. It comes with a long-lasting lightweight battery, meaning zero carbon footprint for you and very low noise levels.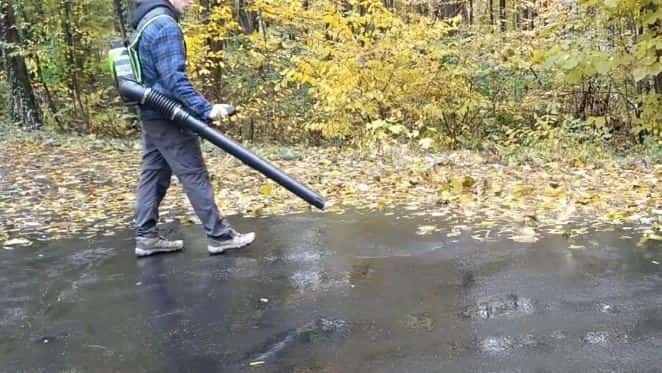 Most people complain about the performance of battery-operated leaf blowers, but I found the Greenworks model to blow through dry and wet leaves just as powerfully as gas-operated blowers due to its brushless motor technology (this link leads to a Youtube video).
Low noise level: With a noise rating of just 60 dB(A), this is the kind of machine you'd want to use for those long sessions of cleaning your yard. In this department, it even beats our top-rated backpack leaf blower on this round up.
Very light machine: With a weight of just 8.4 lbs without the battery and approximately 12 lbs with the 2.5Ah battery installed, I found this to be one of the lightest backpack leaf blowers on the market with the great features included.
Low maintenance and easy to start: So, if you're not a fan of pull-start leaf blowers, I'd recommend the Greenworks 580CFM over gas-powered leaf blowers.
Here's what you'll like when it comes to battery-powered backpack leaf blowers:
No replacing spark plugs
No storing of oils and solvents
No winterization procedures
To cap it all, the turbo function makes it easy to vary power and increase the fan speed to blow away even the toughest of dirt and debris in your yard.
But…
The one thing I did not like is that the Greenworks 580CFM cordless backpack leaf blower is entirely a right-sided machine. If you are left-handed or may have areas in your yard where you can only access from the left side, you might struggle with this a bit. It was not a deal-breaker for me though.
3. Husqvarna 150BT Professional Gas Backpack Leaf Blower
Powerful 50.2 cc, 2.1 hp engine.
Reduced vibrations when the engine is running.
Lightweight – just 22.5 lbs
Air purge mechanism makes it easy to start
Adjustable tube length – no more leaning over.
20% fuel economy and efficiency.
Auto-return stop switch makes it easy to start.
See Price + Reviews
Who makes the best backpack leaf blowers? The straight answer is Husqvarna. This is the second model on this list and for great reasons from our review.
Great air speed: Blowing air at a speed of 251 MPH, Husqvarna 150BT machine is powerful enough to clean even the heaviest debris and leaves in any yard. The specification is 434 CFM air volume and it delivers great performance.
Cruise control feature: For any commercial leaf blower, cruise control is absolutely necessary. It makes it easier to control the machine and blow away debris and dirt in the yard without struggling with the throttle all the time.
Lightweight: Weighing just 22.5 lbs, I found this blower to be light enough for most yard cleaning tasks. It might not be the best lightweight backpack leaf blower compared to its cousin Husqvarna 130BT Backpack Leaf Blower which weighs as light as 14.55 lbs, but it does not feel as though it overburdens at all.
3. Poulan Pro PR48BT 2-Cycle Gas Backpack Leaf Blower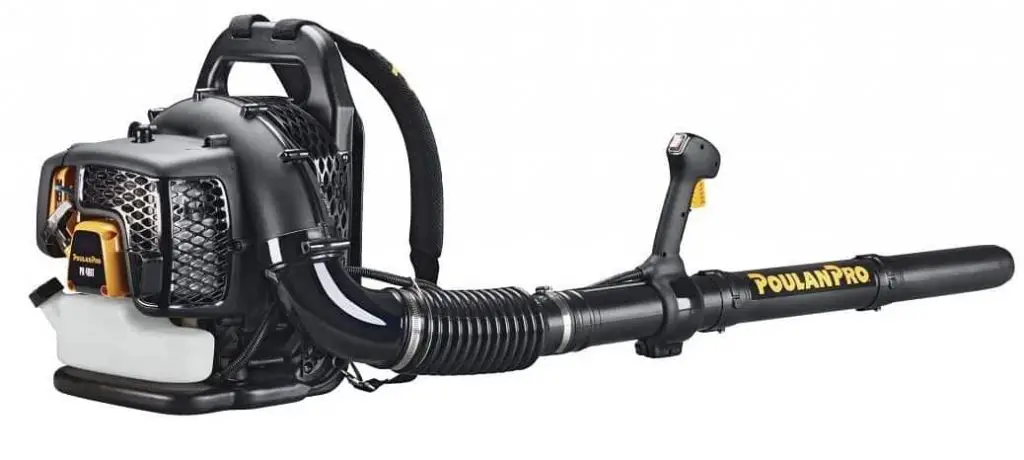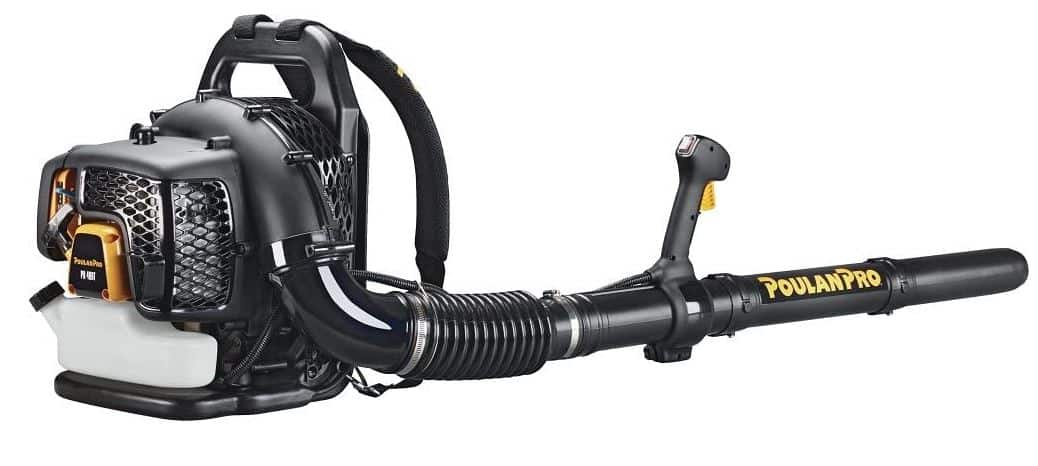 Lightweight – 22 lbs
Adequately powerful engine – 48cc
Great air velocity – 200MPH
475 airflow volume guarantees performance
Sturdy and comfortable backpack design
See Price + Reviews
This Poulan Pro PR48BT's first impression feels sturdy and durable. But that's not all. It packs a punch of great features for any good backpack leaf blower for home use as well as commercial jobs.
Enough power: The 48cc 2-stroke engine with a volumetric flow of 475 CFM is good enough to blow away wet and dry leaves in any yard.
Variable speed control: Since adjusting speed is important for mixed tasks, you'll find the speed control an important feature for blowing through heavy and light-duty yard cleaning tasks.
Cruise control: Other than being able to adjust the speed as per the need, I enjoyed testing the cruise control feature, which works great. It makes it easier to clear up scattered leaves on the lawn without the need to hold down the throttle all the time.
4. Troy-Bilt TB4BP EC 32cc 4-Cycle Backpack Blower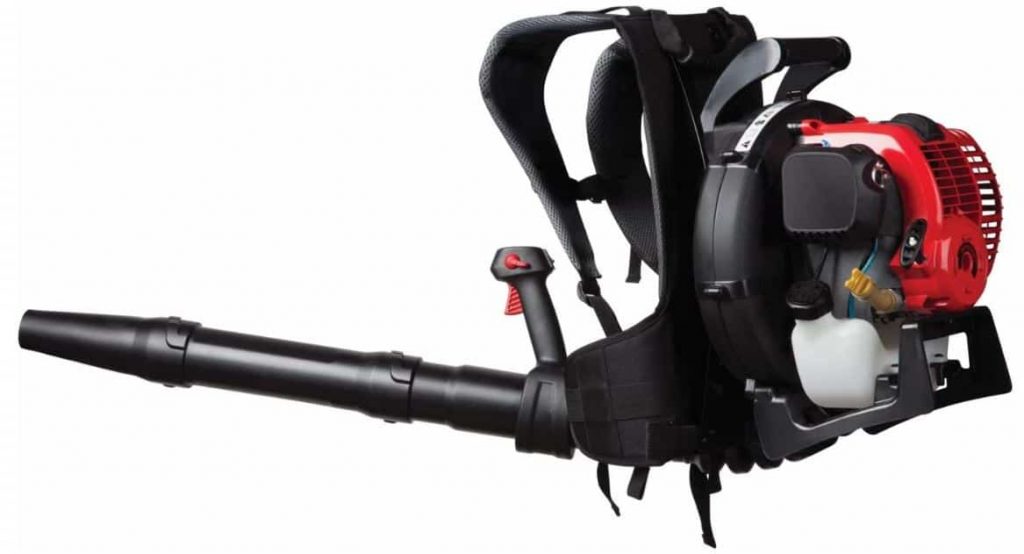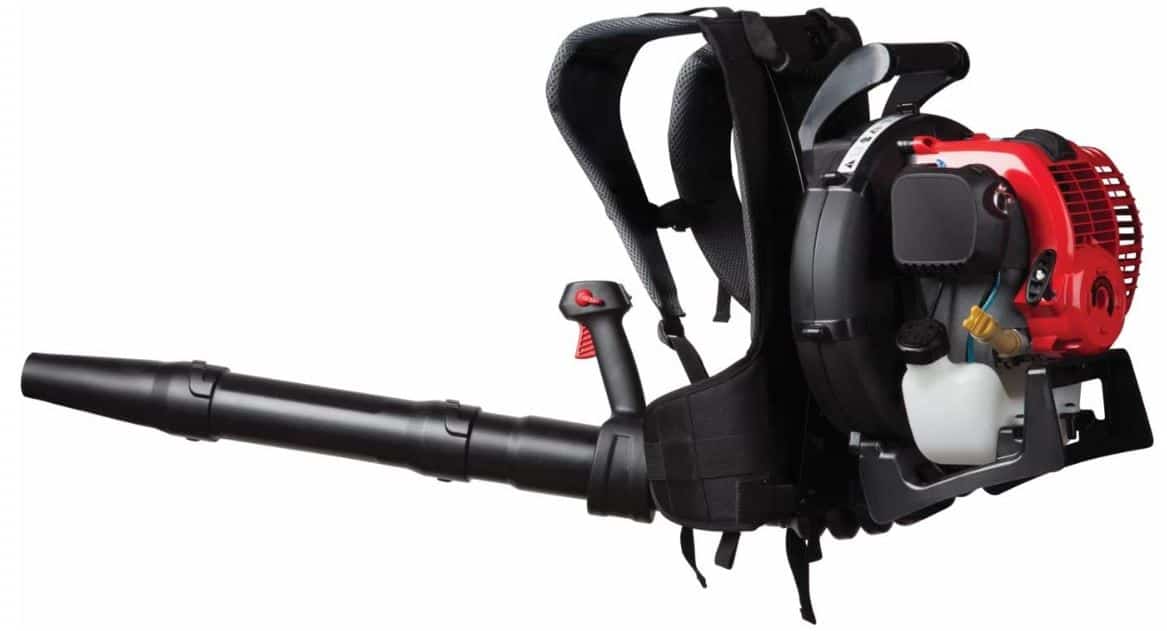 Has a great back cooling system.
32cc 4-Cycle engine powerful enough even for commercial yard cleaning.
Starts really easily. JumpStart electric starter option available.
Long flex tube for easy maneuverability.
See Price + Reviews
150 mph air speed is not the fastest, but this machine still proved to be one of the top-rated backpack blowers for lots of landscaping needs.
The 32cc 4-Cycle engine produces enough torque to blow through dry and wet piles of leaves just fine. You'll not hear the engine struggle when put to the ultimate test.
Great maneuverability: I find blowing debris around obstacles and hidden areas a challenge with most leaf blower machines on the market. However, the Troy-Bilt TB4BP EC backpack blower has a long flex tube that makes this so easy.
Cooling back pad: A good gas backpack leaf blower needs to be really comfortable, and this Troy-Bilt machine ticks some great boxes in that capacity:
Padded back and straps with a coolflex design keep you cool by allowing air to circulate on your back.
Weighs 21.8 lbs, which is fairly lightweight in the gas-powered blower category.
The backpack harness of this thing is actually a patented one, so you'll be getting a great feature here especially if you don't like those long hours that leave your back overheating.
My final review of this backpack leaf blower: I liked it for the performance in a medium-sized home yard. For heavy-duty jobs, you may want to buy a much more powerful unit, with a larger engine.
During my test and review of the Troy-Bilt TB4BP EC backpack blower, I saw it struggle through heavy debris and medium-sized brick chips. It also struggled a bit clearing fairly wet heaps of grass clippings.
6. Makita EB7660TH 4-Stroke Backpack Blower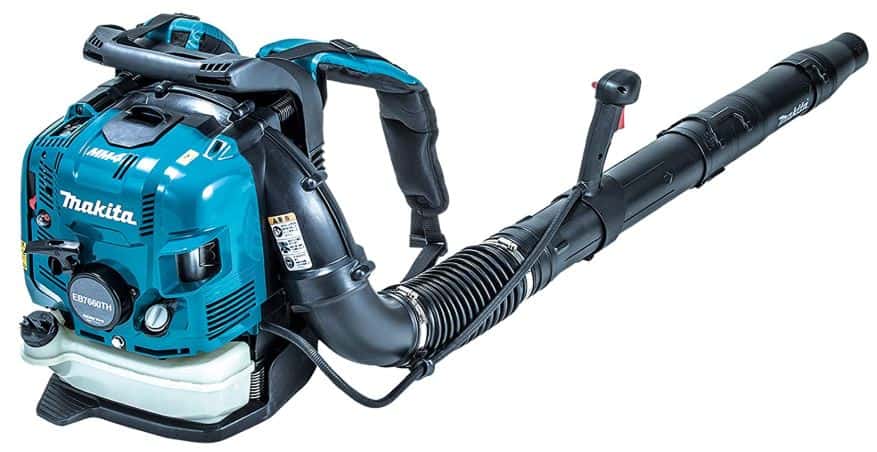 Low noise, as low as 76dB(A)
206 MPH – great speed for efficient cleaning of leaves
Powerful 75.6 cc commercial-grade 4-stroke engine
Does not require fuel-mixing
Starts with a single pull of the line.
See Price + Reviews
Ever used a leaf blower and felt too much vibration in your hands? It is an annoying feeling, and the Makita EB7660TH is a professional backpack leaf blower that got rid of that effect.
If you're a lawn care professional cleaning a large yard, the heavy-duty anti-vibration mounts on this machine will make it a lot more comfortable working for long hours.
Quiet 4-stroke engine
To my surprise, the 75.6 cc was fairly quiet when I tested and reviewed this backpack blower. This could be due to the fact that you do not need to oil-mix with petrol as you do with other machines for better performance and fuel economy.
Easy-to-start engine
If you hate those endless pulls, this is a great backpack leaf blower for you. Thanks to its automatic decompression technology, it starts every first time you pull the cord.
Ventilated back panel
Gas-powered machines can heat up at times, but this one is not only padded for comfort but also well ventilated to make sure you do not suffer too much heat when using the machine to get rid of leaves in your lawn.
The price point may not be the very best though. However, if I have a small yard, I'd shop for a backpack leaf blower under $200 or thereabout. This is purely a great buy for anyone with a large yard or for commercial use.
Best Features to Look for in Backpack Leaf Blowers
You may want to buy the most powerful backpack leaf blower, or the quietest, lightest, and cheapest. Or maybe you want a machine that is great for home use as opposed to a commercial one.
But do you know what to look for when comparing the blowers?
Personally, I prefer battery-powered blowers for home use and gas-powered leaf blowers for commercial or professional work. They deliver a great deal of power, but the noise is something else. That's when you need noise-canceling earplugs.
So, to help you choose a great backpack blower, here are the most important features to look for:
Weight
It goes without saying, the lighter the backpack blower, the better for you. However, it does not work this way all the time. Most cordless leaf blowers carry fuel tanks or batteries that make them heavy.
You may need to compromise a bit when looking at this feature. Lighter machines may have reduced features compared to heavier ones.
Power and Performance
Power and performance can be tricky factors to discern especially if you're not a technical person.
However, the important specifications to look at are the horsepower of the engine (denoted as hp) and the engine displacement capacity (denoted as cc for gas-powered machines).
The higher the engine capacity, the higher the torque (horsepower) the machine will produce. It also means higher revolutions per minute (RPM), which means greater air flow velocity as the fan moves faster per time unit.
For tough jobs – long hours, big yards, and heavy or wet dirt, you want to look at higher numbers in terms of horsepower and engine displacement in order to get the best performance.
Noise level
Even if you want to wear earplugs while cleaning up your yard, you really need to mind your neighbors.
Noise level on these machines is denoted as dBA, or dBa, or dB(A). You want to look at this number before choosing your preferred backpack blower.
The lower the dB(A) rating, the lesser the noise it will produce. In this case, look for the quietest of them all without compromising power and other features you like.
Variable speed and cruise control
It might seem a fancy thing but cruise control is great especially on models that come with a poorly designed throttle.
Instead of pressing it down all the time for tasks where you need pretty much the same fan speed, you just set the cruise feature and free your hand for directional blowing.
Another important thing I would consider is variable speed. You don't need the full air velocity for all sorts of tasks, so for lighter ones, just a moderate speed will do. It also helps with fuel/power consumption on your backpack leaf blower.
Gas vs Battery-powered blowers
Do you worry about carbon footprint? You should. Gas-powered leaf blowers usually emit some level of carbon which pollutes air.
My preference is battery-powered cordless leaf blowers. However, they are not suited for commercial use because you'll need to carry extra batteries to compensate for the charge cycles.
Gas leaf blowers are great for large yards because all you need to do is to refill the fuel tank and you're good to go.
Comfort and Cooling
When it comes to comfort, I look at two things: the padding on the backpack system and its cooling mechanism.
Does the harness distribute the weight evenly? Is the padding soft enough? Does the padding have some sort of cooling or allowing air flow?
Some of the great blowers out there have cooling systems just to make sure your back does not suffer fatigue and overheating.
These are the factors that will determine how comfortable it is to carry the backpack leaf blower for more than 30 minutes. Take keen interest in this especially if you are shopping for the best backpack leaf blower for commercial purposes.
For small yard-cleaning jobs, you may not need to be so keen on the comfort especially if it takes less than 30 minutes to clear any dirt and debris in your yard.
Warranty is Important
When you want to know how much lifespan you'll get from the machine, check the warranty.
For how long is the manufacturer willing to stand by their machine? Shorter warranties on yard leaf blowers are usually a sign the machine is not durable enough.
For this machines and any other, I always look for a longer warranty. It is a great sign the machine will last longer and give me great service.